Shopping For the Best Hot Water Systems in Canberra and Newcastle
If you are looking for a new hot water system replacement or planning to install the best hot water systems in Canberra and Newcastle, it can be tricky when you are not familiar with the hot water brands that most Australians swear by. In no particular order, we have listed the famous models and makes from hot water manufacturers.
This is purely based on our experience in the Canberra Hot Water industry as well as in Newcastle, Central Coast, Port Stephens and Hunter Valley regions. Get insider information on the best hot water system that would suit your needs.
Thermann Gas Continuous Flow
The Thermann Gas Continuous Flow prides itself for its Japan-made superior build quality and noise cancellation features. It is reliable in providing hot water and is highly recommended for bungalows and single bathrooms. However, people have reported water pressure issues. Most of these cases are attributed to improper installation. Make sure to call a reliable plumber to install your new Thermann hot water heaters. Their responsive after-sales service is also a welcome bonus.
Rheem Stellar Electric and Gas Hot Water System
The Rheem Stellar hot water systems use stainless steel storage tanks known for their durability against corrosion. Many loyal Rheem customers have spoken that their hot water units last them for up to 10 years. What people love about these Rheem hot water heaters is their fast heating ability. Like any other hot water brand, get your Rheem Hot Water Systems serviced at regular intervals to enjoy the longevity that this brand is famous for.
Apricus Solar Hot Water System
The Apricus Solar Hot Water System delivers hot water fast. Like many solar hot water products in the market, it has to be installed by reliable solar hot water plumbers so you can make use of the advantages of having a solar hot water system. Most reviewers would say that this is for techy people. Moreover, we recommended getting a professional licensed plumber who knows this product well so you can get a thorough briefing on how this solar hot water system functions.
The Rinnai Infinity Range gas instant hot water systems are guaranteed space savers. These instantaneous hot water systems bring you hot water when you need it. Most of Rinnai's happy customers note that these products can last up to 5 and more. Rinnai hot water clients also find comfort in Rinnai's heat exchanger warranties as much as they find satisfaction in the energy savings they get from these units.
Dux Proflo Hot Water System
The Dux Proflo model series is garnering lots of loyal customers who swear by its longevity even beyond warranty. It also heats fast. When you check reviews online, you would see a lot of Dux customers who install the same models again for their hot water system replacement jobs. The water coming from these electric hot water systems could be too hot though if you don't install a tempering valve.
Dux Prodigy 4 Gas Hot Water System
The Dux Prodigy 4 gas hot water systems provide hot water steadily. Well known for its reliability, these Dux gas hot water systems could even outlast its warranty period of 7 years. Local plumbers can install these Dux Hot Water Systems fast and easy. If the Dux hot water heaters are past their life cycle, you would usually notice water leaking from the tank. But that's nothing with the years of reliable service these gas hot water systems provide.
People praise this environment-friendly heat pump hot water unit for its noise-reduction capacity when operating and its ability to heat water quickly.  Perhaps the biggest take on this hot water model is the significant reduction in energy cost which is why most people opt for a heat pump hot water system in the first place.  Its timer function is also noteworthy, as it switches on and off based on your programmed consumption. It works best with bills charged based on the time-of-use tariffs.
Bonus Advice From Our Canberra And Newcastle Plumbers
Storage vs Instant Hot Water Systems
Storage hot water systems have electric, natural gas, LPG, heat pump and solar as sources of energy. Depending on the size, storage hot water systems can be installed inside and outside your home except for solar hot water systems and heat pumps that require a secured space outside. Stainless steel hot water systems can be more expensive, as these have a higher resistance to corrosion than vitreous enamel hot water systems. Most storage hot water systems have sacrificial anode rods that attract impurities from the water.
Depending on your location's water quality, some storage hot water systems are not recommended for installation in your area. Water quality in Newcastle for example, can differ so much from other suburbs in New South Wales. Our Newcastle Hot Water Plumbers always make sure that we are installing the appropriate hot water models in the harbour city area.
On the other hand, instant hot water systems which are otherwise known as continuous-flow hot water systems require less space. Instantaneous hot water systems usually use natural gas or LPG as fuel sources. Instant hot water systems are cheaper to run because there is no heat loss associated with hot water systems using storage tanks.
You need to carefully choose the right flow rate that can supply the number of outlets and the number of people using hot water in your household. Sometimes, these units would have difficulty providing hot water if you are using low flowrate showerheads or if the required temperature is not set right.
Hot Water Systems Energy Star Ratings
The higher the energy rating, the more energy-efficient a hot water system is. Electric hot water systems and gas hot water systems, both storage and instantaneous, should meet the Minimum Energy Performance Standards (MEPS). The energy star ratings are usually visible to gas hot water systems but this is more an industry practice rather than compulsory advice from the E3 (Equipment Energy Efficiency) program.
The Australian Government's Department of Industry, Science, Energy and Resources, is responsible for overseeing this regulatory body. The EE3 program determines how much energy a hot water system uses. It also ensures that all hot water appliances in the market can sustain the requirements of the Australian climate and locations and can meet the demands of households all over the continent.
Looking For Experienced Canberra or Newcastle Hot Water Plumbers?
The Plumbing and Electrical Doctor represents a team of licensed plumbers and gas fitters available locally to cater to your hot water systems repair and installation. We service hot water systems to keep up with warranty conditions and provide Emergency Hot Water Repairs in Canberra and its neighbouring suburbs like Queanbeyan and areas in New South Wales.
Give us a call at 131091 or reach out to us through our website's contact form.
General Plumbing & Electrical | Hot Water Systems | Blocked Drains | Gas Fitting
Other Recent Articles On Hot Water Systems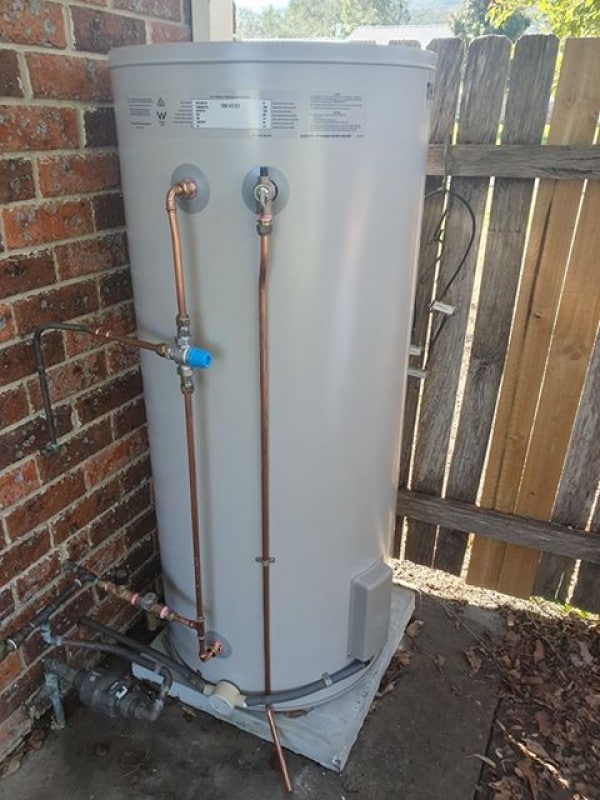 During cold winter nights and mornings, it's such a luxury to take a hot shower and feel rejuvenated and warm.  So it's always an inconvenience
Read More »